Worldwide tourism has immense potential for growth, and this sector has evolved drastically in the last few decades. Now travel, and tourism is becoming one of the mainstays of the world economy.
According to The United Nations World Tourism Organization report, International tourist arrivals worldwide have grown from 25 million in 1950 to 1.4 billion tourists per year, to present times. Similarly, international tourism revenues worldwide have grown from 2 billion US dollars in 1950 to 1.3 trillion in 2017. This sector contributes 10.4% to the world's GDP and generates 319 million jobs in 2018 globally."
Technological advancements, like big data, artificial intelligence, and machine learning, are offering great opportunities for the travel and tourism industry to grow and sustain. The new age travellers' planning begins with googling and ends with online agencies. Technology is transforming the traveller experience. For example, What does perfect travel consist of? Before enjoying a sunset on the beach, you need to spend time finding budget-friendly accommodation, book a flight ticket, and spend at least a couple of hours to check-in. That's how this was going before chatbots were formally introduced in the travel industry. Now, with the help of a chatbot and your smartphone, you can instantly book and pay for hotels, flights, and even do hassle-free check-in in the hotel too.
What is a Chatbot?
---
A chatbot is a computer software interface that conducts human-like communication with the website visitor. It communicates via text or voice-based commands. Chatbots are enabled with Artificial Intelligence and Machine Learning and use Natural Language Processing(NLP) to process user queries. This tool instantly answers your questions anytime and anywhere. It scans your keywords search and responds with pre-set answers available in the database. Chatbots make the customer experience more responsive, accurate, and intelligent.
Facts About Chatbot
The first chatbot, ELIZA, was created by Joseph Weizenbaum in 1966.
According to a survey, US is home to the most significant portion of the world's chatbot users (36%), followed by India (11%). Germany comes in the third place (4%)
Experts predict 90% of customer interaction will be automated by 2022.
Companies will save 2.5 billion customer service hours using chatbots by the end of 2023.
(Data Source)
How does a chatbot benefit the travel industry?
Chatbots software provides unbeaten experience to businesses and their customers. Nowadays most people are eternally dependent on the internet to plan their trip. That's the reason chatbot has a significant influence on the travel industry. This software answers your frequently asked questions without human interaction and saves money as well as time. In this way, Chatbot can manage multiple customers concurrently and even handle your complex issues and give a proper solution to what you are seeking. It has aligned the process to improve traveller experience and hospitality business to decrease customer churn, boost sales and revenues.
The chatbot market is growing swiftly. We already have millions of chatbots activated in different industries, which is why investing in chatbots could give you a decisive edge over the competition.
1) Reduce Operational Cost and Workload
Chatbots are an extremely cost-effective solution. Artificial intelligence-enabled bots assist travel agencies in solving routine customer queries. This means businesses no longer depend on third party customer care centers. Additionally, new travel startups can directly shift to chatbots instead of developing a mobile app to save resources. The technology and algorithm used behind the development are sophisticated enough to create a complex solution with ease. Chatbot has the potential to reduce both the workload on your employees, and customer support costs up to 30%. According to the reports, The average cost of building a chatbot from scratch is around $10,000 — $15,000.
2) Save Time and Efforts
Chatbot can handle multiple customer queries and save productive time. This will enable management to engage their workforce in other complex managerial activities. For instance, If your bot is intelligent enough to handle frequently asked customer queries, then it will reduce pressure on the many airline employees; from ground staff to cabin crew. Also, it will save customers' time that is spent reaching out to service representatives and listening to that annoying 30 min long solo music on the helpline!
3) Enhance personalization and Customer Engagement
Travel chatbots work tirelessly to serve customers 24×7, 365 days a year. This continuous accessibility enhances customer engagement in the travel sector. Where customers seek their problems to be resolved immediately, even as they travel across time-zones.
Chatbot can serve as a local tour guide as they can tell you about nearby hotels, restaurants, and other attractions. For example, Foursquare's chatbot, Marsbot, allows travelers to find restaurants, cafes, and bars wherever they go, based on their preferences and their location.
Of course, travel chatbots can ensure maximum customer personalization too.
4) Give More Revenue Opportunity
Travel agencies can use chatbot as a lead capturing tool. This tool can take the customer from awareness stage to conversion stage within minutes. Research shows that 65% of the holiday tourists and 69% of business travelers find online booking more convenient, and 92% of millennials find live chat engaging. In this way, you can add offers, coupons, and even a payment gateway in your chatbots to grab more customers online and make them lifelong subscribers of the platform. All these things bring the possibilities of increasing revenue growth through chatbots.
In today's competitive landscape, businesses from every industry need to automate as many processes as they can to stay competitive. Evidence of this has apparent in the rise of self-ordering kiosks and checkout machines in restaurants.
Chatbots' real value likes in their ability to automate conversations throughout a user's company. Below are some of the benefits organizations can expect to realize after deploying chatbots.
Free Up Chat Agents
By automating communications that would otherwise require the presence of a chat agent, companies save money and time that can be geared towards other efforts. Inbound agents can then reallocate time to proactively work on important tasks such as resolution plans.
Generate Leads
Chatbots utilize direct messaging to collect information necessary for the sales team to provide effective information. For instance, Domain's Facebook chatbot qualifies prospects and redirects visitors to its landing pages where they can contact Domain's support for more information (lead generation).
This chatbot also fights the fatigue by answering the same questions people ask over and over. You'll see your team happier with higher quality leads and free time to spend on more crucial tasks.
Million Dollar agent, Tom Carlin recently managed to gain 14,612 followers and growing, additionally from Dec 1st 2018 – Dec 24th 2018 and successfully managed to obtain a massive 1844 Facebook Messenger leads.
Now the cool part, is that these leads can now be re-marketed through Facebook Chat Blasts, Drip Feed Campaigns and Messenger Ads allowing Tom's business to engage with past, current and new clients on a consistent basis.
Offer '24-Hour' Support
The most popular reason why people use chatbots is to get quick answers; however, companies that don't provide 24/7 support won't be able to give answers when their team is out of office. By leveraging an intuitive chatbot after hours, you can let customers access the information they need regardless of on what day or hour they get in touch with customer service.
Using Chatbots
Interested in setting up your own chatbot? Who isn't these days? The idea of letting a bot fill your pipeline with leads is quite exciting. Here's what you need to do to get started.
With such a wide spectrum of chatbot applications available, it's difficult to nail down a specific one for real estate That's why it is important to spend time doing some research at the beginning to define your goal and then start to explore different applications. From our research on chatbots we feel that ConversioBOT is by far the best choice, with the most flexibility in design.
Do you get more inquiries on your website? Are you looking to generate quality leads through Facebook? To find out which application will be most effective in your case, talk with your website manager and social media lead, then contact us.
Whatever the answers, keep tabs on what you'd like to achieve as you begin to lay out the overall plan.
Your customer interactions will vary based on the channels your brand lives on. The most ideal places for a chatbot are:
Your domain (website)
Facebook Messenger
A person making a direct visit to your homepage is likely more familiar with your brand than a person checking out one of your articles, so your chatbot needs instructed accordingly.
Think about what questions people are likely to ask your bot; this will allow you to deliver the most relevant answers. If you're uncertain of the commonly asked questions, talk to departments that interact with end users, such as:
Sales: Ask your sales reps about the questions that stop people from becoming customers.
Customer Support: They can help you identify trends in customer questions.
Quora: This is a website where people go to ask questions about different things, including brands. See if there are any related to your own brand.
Give Your Bot a Personality
Putting a personality on your bot will humanize the experience it delivers. To let visitors know that they are speaking with a bot, several companies provide a name for their chatbot. This allows them to be more transparent with the audience, while giving off a friendly tone. With ConversioBOT we can even use a photo of one of your employees and their name to maker it even more personable.
How Do I Set Up a Chatbot for My Real Estate Company?
With such a wide spectrum of chatbot applications available, it's difficult to nail down a specific one for real estate. That's why it is important to spend time doing some research at the beginning to define your goal and then start to explore different applications. That's where we come in. We have sourced chatbot templates specifically for Real Estate and we them customize them just for you.
Do you get more inquiries on your website? Are you looking to generate quality leads through Facebook? To find out which application will be most effective in your case, talk with your website manager, social media lead, and, of course, us.
Website Chatbots
If your website manager is seeing high bounce rates, that could be something a bot can help address. If your social media lead is struggling to keep up with people's messages on Facebook, you may want to set up a bot there. Using a tool like ConversioBOT allows us to create a deploy a website chatbot within minutes.
A Chatbot-powered Live Agent cuts down your resource cost, removing the need to hire multiple agents for live chat support. Additionally, it learns over time, notifies human agents when customers request a call, and gets smarter everyday.
Facebook Messenger Chatbots
If website chatbots don't top your list of customer service assets, it may be time to consider a Facebook Messenger chatbot, and here's why: Its adoption rate. Messenger chatbots continue changing the way real estate agents and prospective buyers interact on the world's biggest social media platform.
Today, over 300,000 bots are being used on this messaging app to make real estate recommendations, take questions, gather information and even to advance corporate social responsibility. The vast majority of consumers are comfortable with the idea of having a Chatbot address their enquiries, and the virtual assistant industry is expected to be worth $7.72 billion USD by 2023.
Messenger chatbots help answer queries or collect details via automation. Some of the features that make that chatbots effective and convenient are:
The ability to send and receive greetings.
Template that allows people to click buttons and request more information from your bot.
CTAs to prompt users to "See More" or "Get Started".
Want to create a Facebook Messenger chatbot for your Facebook Business Page? ConversioBOT has a sequence of chat pages that trigger on Messenger based on what the prospect chooses or types. We can set up a chatbot with quick forms, text, images, qualifying questions and more.
Can Chatbots Really Up My Real Estate Game?
Yep, absolutely. A huge part of real estate is relationship-oriented, where clients and agents engage in dialogue over transactions that are often the biggest investments clients make in their lives. Chatbots can aid this agent-client relationship by starting a conversation.
Want to ask if they are married and in what time period are they considering investing? Leave it to your chatbot. Want to schedule a call or arrange a meeting with them? Your chatbot can! Even if the prospect closes the chat right away, your chatbot keeps a record a record of that visitor. Boom. You've collected lead information. If they chat more and tell your bot about their preferences, even better.
Secondly, chatbots can help prevent the criticism aimed at front-line agents. Front-line agents occasionally get a bad rap for being too salesey and too pushy – which is where a chatbot can be a blessing in disguise. By eliminating the human element at the prequalification stage, it can make the procedure objective and therefore make people feel more comfortable about sharing their information. Finally – think about the hours you could save by having your chatbot ask questions upfront.
Buyers could be looking at new neighborhoods, staging a home or comparing prices…there are tons of things that call your attention during your day. When you have a bot working with you and for you, your work schedule is streamlined.
The Future Belongs to The Bot
We believe robots should never fully take over your customer service responsibilities, but chatbots have the power to enhance both the real estate agent's and the customer's experience by bolstering reliability and speed.
Therefore, real estate companies can leverage chatbots to put together a more informed support team where each social interaction is given individual attention, leading to a superior response and client experience. And of course, there's the option to opt out of the conversation. But then again, why would anyone opt out of the future?
The role of chatbots is going to be bigger and better. With the emerging chatbots trends and market outlook, it is crucial for businesses to adopt innovative ways to deliver continuous customer engagement.
As per Gartner, "Artificial Intelligence (AI) will be a mainstream customer experience investment in the next couple of years". 47% of organizations will use chatbots for customer care and 40% will deploy virtual assistants.
AI has been revamping the ways of communication ways for businesses both with customers and internally. AI is vital for enabling machine learning and the flexible interpretation of automated business communications.
Going further, chatbots are predicted to move from simple user-based queries to more advanced predictive analytics based real time conversations.
Key chatbots statistics
With the chatbot trends making headway, more and more industries innovative applications to automate their business processes. They are being adopted by multiple business verticals to deliver excellent customer service and delightful experience.
Undoubtedly, bots will be transforming the way businesses communicate with their customers and prospects. It has been predicted that conversational disruption may reduce and encourage marketers to prioritize chatbots as a channel for reaching out to users.
The deployment of bot solutions will extend its horizons in the near future. The number one chatbot use case is to address customers promptly, having a bot platform can help to achieve key business metrics like average resolution time and first contact resolution.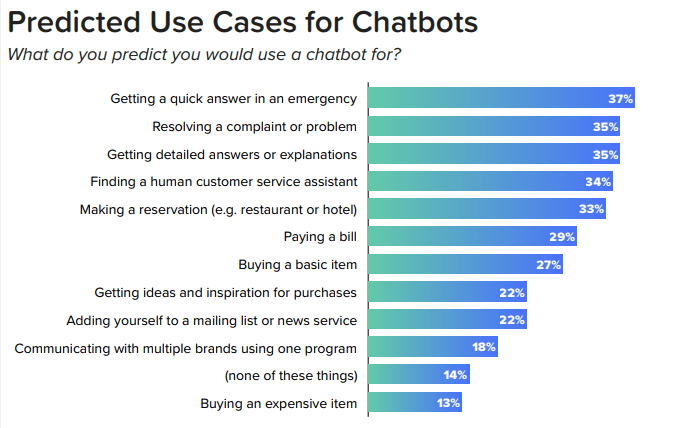 Source: Digital Marketing Community
Key chatbot statistics
Take a glance at the research-based statistics that provide valuable insights into the trends of the chatbot industry. Businesses can consider the statistical insights for successful deployment of virtual assistants.
Chatbots: Trends, statistics and future outlook in 2020
The chatbot ecosystem is quickly expanding despite the relatively robust ecosystem that currently exists. Companies from Fortune 500 to the start-ups are implementing the chatbot benefits to gain pace and efficiency.
Let's review some of the most happening chatbot trends and their future use cases.
1. Chatbots will be more human alike
As per Global Market Insights, "The overall market size for chatbots worldwide would be over $1.3 billion by 2024." Hence, it is inevitable that the chatbot industry will become the driving force of business communications.
The natural language processing (NLP) bots use sentiment analysis and predictive analytics to intelligently understand the conversations and the intent of the queries. Considering the chatbot stats about how businesses are adopting AI technology, there are still some challenges to implementing chatbot best practices successfully.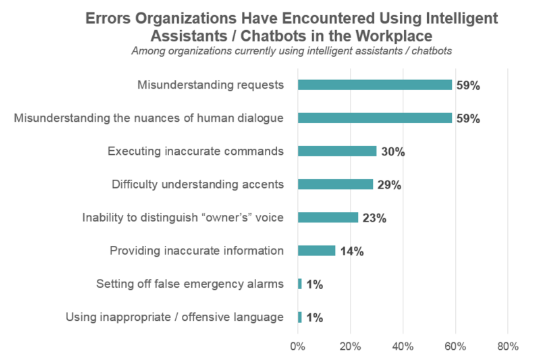 Source: Spiceworks
The key challenges are:
Misunderstanding requests: Chatbots often misinterpret the requests because they are not able to understand the right intent of the customer.
Execute inaccurate commands: Chatbots fail to answer any technical commands made by the customers.
Difficulty in understanding accents: Chatbots are still not capable of understanding accents or cultural dialect to understand the right intent.
Keeping the drawbacks in mind and to keep pace with consumer expectations, businesses now are more focused on building chatbots that are indistinguishable from humans with the help of machine learning (ML), artificial intelligence (AI), and natural language processing (NLP).
Chatbots with a more conversational AI has the ability to:
Deliver personalized and tailored customer experience to build better customer relationships.
Improve the user experience with your brand and boost customer loyalty.
Positively affect the customer's perception to receive positive feedback and build a satisfied customer base.
2. Deep customer insights to drive chatbot behavior
Chatbots are becoming more conversational to communicate effectively and the next step is to improve user experience. Sentiment analysis is important to train chatbots with more human alike capabilities.
It is not just about providing an effective response, you also need to create a delightful customer experience. With the help of sentiment analysis, chatbots could understand whether the conversation was going well and respond to customer emotions accordingly.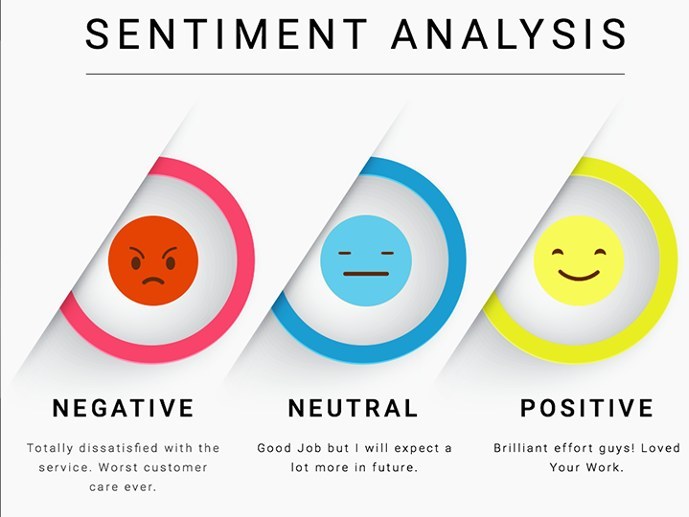 For all the customer insights, chatbots can collect, normalize, and aggregate customer feedback data for further analysis.
Here are some ways sentimental analysis can enhance user experience with chatbots.
Chatbot records the entire customer conversation and, with sentiment analysis, bots can figure out your happy and annoyed users.
With sentiment analysis, chatbots can modify their responses so that they're aligned with the customer's emotions.
Angry customers are routed to the right team to start a conversation to deliver personalized and effective customer support.
3. Use of AI in contact centers
According to Chatbots Magazine, "Businesses can reduce customer service costs by up to 30% by deploying a conversational chatbot".
AI chatbot trends aim at saving costs significantly when businesses upgrade from inefficient IVR technology to AI. Bots without human involvement can handle simple requests such as changing a password, requesting a balance, scheduling an appointment, etc.
Here are some common use cases are
Bots can greatly reduce the number of human agents required and also improve on employee attrition ratio which is due to the repetitive nature of routine calls.
Employing staff 24×7 in your contact center can be costly. Adding resources to support multiple lines of business hikes the headcount to handle customer queries.
AI future trends in omni channel contact center:
Chatbots are poised to go through transformational changes to implement AI across their core business processes. Some of these are
Business automation: Automating the business with chatbots helps to handle simple queries promptly and deliver a better customer experience.
Customer behavioral prediction: Contact centers can use predictive analysis, for launching a product, AI helps to predict the intent of the customers' reach out in order to adjust the agents.
Streamlined experience: Bots can collect information to understand the context of interaction to offer faster resolution by identifying the purpose and improving customer experience (CX).
4. Voice bots are becoming mainstream
Voice is the next big thing!
Users are already used to starting their days with "Ok Google, what's in my calendar today?". According to Forbes, more than 50% of all searches by 2020 will be voice-driven.
It's all about facilitating your users with a seamless experience with your business, and you can achieve that by voice-driven chatbots. Accenture research says "Digital consumers prefer messaging platforms that have a voice and text-based interfaces".
Why are voice bots gaining popularity?
Text can be monotonous at times while voice bots engage customers with automated, intelligence-based communication.
Voice-enabled bot, you can provide reliable data insights to your customers. It also helps in giving correct real-time information.
Voice bots offer new opportunities for personalization that reduces problems faced while dealing with customer requirements.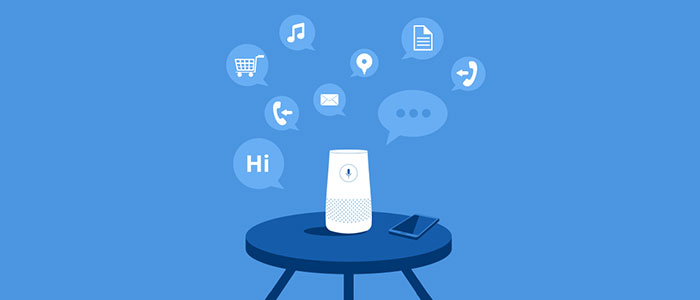 Conversational bots utilize artificial intelligence and are capable of assisting over both text or voice. The trend of automating customer engagement will continue to be on the rise in 2020, which will help in sectors such as insurance, travel, and finances services.
In banks, the customer data is combined with the latest data to personalize communication with the customers. In the current time when the competition is at its peak, brands must not miss out on any chance of converting leads into their customers and provide the best-personalized experience as new trends in customer service.
5. The customer experience (CX) will drive chatbots adoption
AI chatbots help to redefine the way businesses interact with customers. In the current time, where social messaging applications are gaining popularity, following the chatbot industry trends will connect you with your customers in a great way.
An increase in customer experience generates an average revenue increase of $823 million over three years for a company with $1 billion in annual revenues. By automating the different business functions with chatbots, you can boost your customer experience.
Here is how deploying chatbots can improve customer experience?
Chatbots are best for customers who expect an instant response, typically less than 30 seconds.
AI bots are active 24×7 to engage customers to handle information-based questions and reduce support tickets.
Chatbots are easily scalable during the busy hours to engage customers and deliver better customer experience.
Based on the customer experience, businesses can choose the use of chatbots for communicating with their customers.
6. Messaging platforms as a growth driver for chatbots
The concept of conversational commerce is more preferred as it encourages buyers to shop online with chatbots. Messaging platforms allow businesses to revive their approach from improving branding to deliver the best customer service.
Going ahead, more and more brands will adopt messaging apps to boost customer engagement and increase customer loyalty as these platforms will have strong bot capabilities along with an integrated approach with various business functions.
Let us take the example of WhatsApp, the most popular messaging channel.
Book my show, a well known Indian online booking app, has integrated WhatsApp for Business to send ticket confirmations as WhatsApp messages by default. The users who book tickets on BookMyShow will be notified through a WhatsApp message along with the confirmation text or an M-ticket (mobile ticket) QR Code.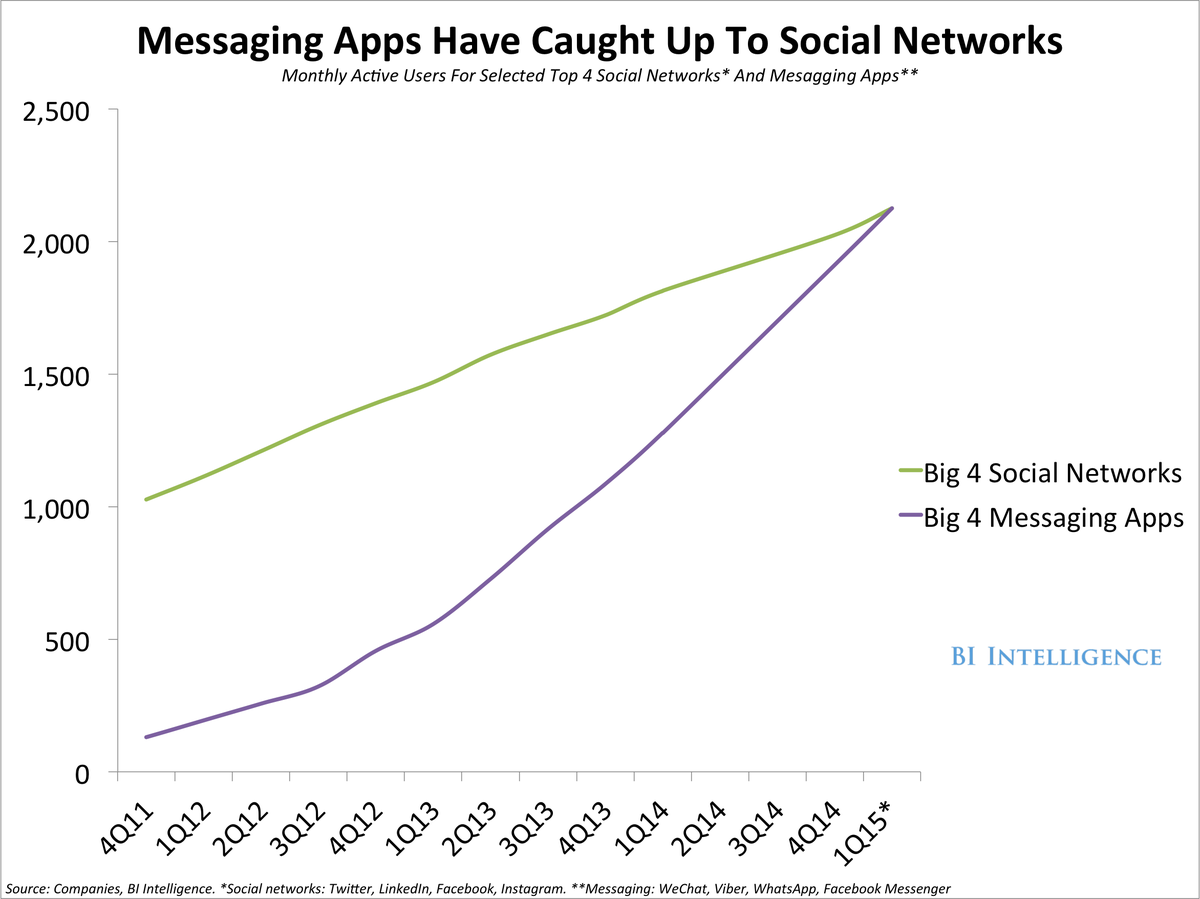 Source: Businessinsider
Messaging platforms having chatbot capabilities can help businesses to drive,
Marketing engagement: Customers prefer business offering bot support. 47% of users are open to purchasing items through a bot. The chatbot for marketing stats show that most of the buyers trust chatbot as the best way to interact with businesses.
Customer support: Most chatbots can engage customers by answering their simple queries when the support team is busy or not available. With AI, bots can get smarter to provide better responses.
Sales & lead generation: Chatbots can be the best channel to automate your sales and lead generation process by qualifying your prospects into leads across your website and social channels.
7. Chatbots will automate payments
Chatbots are drastically changing the way businesses interact with customers, manage campaigns for lead generation, and automate payments. Chatbots Magazine found out 67% of US millennials said they are likely to purchase products and services from brands using a chatbot.
The future of chatbots is that businesses will automate simple payments and allow users to pay directly over live chat or Facebook Messenger apps. The instant process makes the customer happy and improves customer satisfaction.
MasterCard has also launched a chatbot, especially for customer payments. These capabilities of the bots to answer queries related to account balance, assist customers to set payment alerts and collect final payments from customers.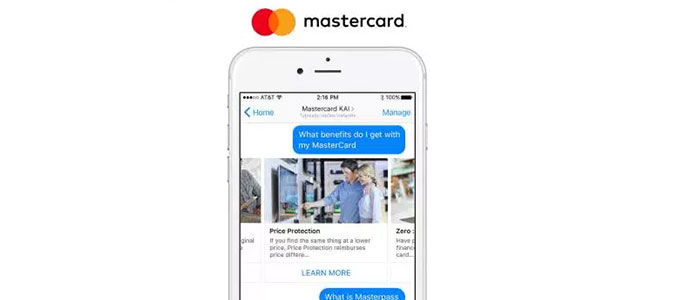 Though data security and information protection are an important aspect, it is in the nascent state. It will take a bit of time to catch up on making chatbot use cases.
Here are some main benefits to accepting Facebook Messenger payments:
Customers can buy directly from Messenger: Your customers do not have to leave their app to make the final payment.
Trust is a strong word: Many people rely on Facebook Messenger so no issues with credit or debit card security.
Easy scalability:  It is easily scalable – it means you can sell products directly inside your automated Messenger sequences by 24×7 bot.
Cost effective: It is cost-effective compared to traditional channels like live chat and call centers
8. Social media will dominate the adoption of AI
Social media is no more for just making friends. With time, it is used for voicing opinions, ordering products and services, offering reviews, and even getting in touch with businesses. Hence, it becomes a necessity for businesses to use chatbots to facilitate interaction on these platforms.
There are over 100,000 Facebook bots active on Facebook Messenger platform. 
Businesses in various sectors have already employed chatbots to use this vital resource to better understand the customer needs and even improve ways that the business can help the consumers.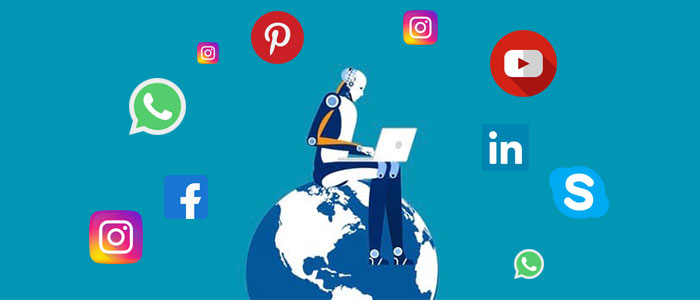 Leveraging AI across social media marketing, helps you to understand and track multiple aspects of customer behavior
How much time do your customers spend online?
Which social media platform do they prefer?
What is the actual purpose of using social media?
Artificial Intelligence (AI) helps to analyze voluminous user-generated data to identify trending topics and understand your user behavior. It also helps to streamline the processes to work in an effective manner.
9. Bots for internal use for enterprises
Apart from handling customer requests seamlessly, chatbots deliver incredible business value by streamlining the internal workflows from small businesses to enterprises.
There are many use cases for AI chatbots with each variant application striving towards one common goal – to improve the experience and efficiency of the user.
Here is how chatbot trends can be used across enterprise functions:
Human Resource (HR): Chatbots can be used to keep the pulse of your employees, answer basic HR-related questions, and complete transactional HR services.
Employee onboarding: Onboarding is considered to be a tedious and time-consuming task. Chatbots can initiate the interview process by fielding screening questions and capturing the answers. It also helps in guiding new hires through company policies.
Internal help desk: Chatbot can handle the common queries and allow IT service desk agents to work on complex queries. The bot learns the answers to repetitive queries and improves the response time.
10. Chatbots will become an integral part of daily lives
More and more brands are going to build applications in the future. Bots can collect data and analyze to take important actions.
Bots are used in streamlining personal tasks or day-to-day activities such as fitness, parenting, kids, e-learning, etc.
Fitness chatbots are being developed for discovering user preferences and to create a personalized chatbot experience. It will not be time demanding while engaging the user with their weekly fitness routine.
There are many examples where AI has already entered the mobile app world and benefited many sectors like health care.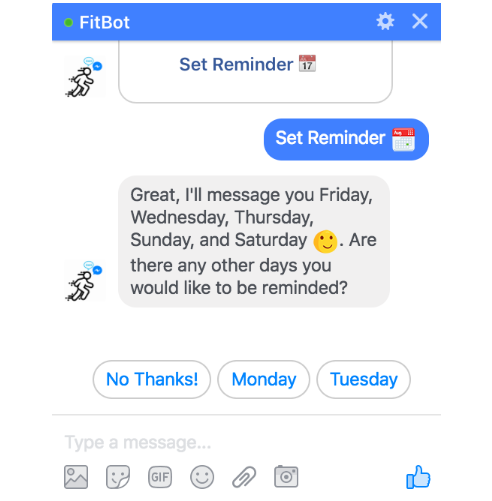 Chatbot technology is one of the most prospering eLearning innovations, which serves as a helping hand by simplifying the teaching methodology. These intelligent bots are often deployed as virtual assistants.
Chatbots have turned out to be the most innovative solution in bridging the gap between technology and education. The implementation of chatbots creates an interactive learning experience for the student much closer to the one-to-one with the teacher.
Final thoughts on chatbots trends
Chatbots are going to the mainstream across diverse business functions and consumer applications. Going ahead, automation will make its roots extra stronger and overcome all the chatbot challenges faced by the businesses. Having a deep understanding of your business requirements and accordingly implementing bots will greatly impact your customer journey and experience.